Five years (and one week) ago I ran my first ever race, the 2008 Lincoln 10k. I had started running when I was 17 after being inspired by my brother running the London Marathon and as I was dangerously approaching 17 stone and knew I needed to take action to lose weight. That race remains one of the hardest runs I have ever completed and when I crossed the line 1 hour, 12 minutes and 17 seconds after the race had started I had no idea what it was the beginning of. Today I sit here five years later and five stone lighter having set another PB at this morning's Lincoln 10k, knocking 31 minutes 18 seconds off my time from 5 years ago and having ran over 5 minutes a mile faster.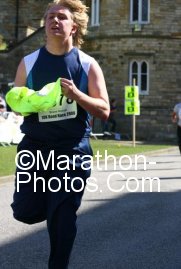 Lincoln 10k 2008
Despite living only three miles from the start of the race the preparation for the run this morning was far from ideal. Road closures and heavy traffic meant that it took over an hour to get from my house to the designated car park and it left me little time to quickly visit the toilet before lining up with a couple of minutes to spare. Typically I would have had a couple of drinks by the start of the race, although stuck in traffic and needing a pee I had refrained from sipping on the bottle I had to hand, so when the race started the only thing I had had to drink was a cup of tea with my porridge for breakfast.
Unlucky 13?
Having selected my projected time as being under 40 minutes I was given a special 'yellow' running number to highlight me as an 'elite' runner. I must have been feeling very optimistic on the day I signed up for the race as at the time it would have meant knocking 5 minutes of my PB. Neverless I enjoyed the perks of being an 'elite' runner by lining up in the pen at the front ahead of 5000+ other runners. For my first mile I shot off and without intending to or realising at the time I was running much faster than normal and ran a 6 minute mile.
After this first mile though I started to feel very dehydrated. I mentioned previously that I had barely anything to drink before the start of the race and on what probably was the hottest day of the year so far this was not a wise move. I could feel my pace slowing considerably as I struggled to cope with a very dry mouth and no way of fixing it with the water station 2 and a bit miles away. As I got to the 3 and a 1/2 kilometre mark I saw Jenny and my mum in the crowd and ran across to them asking for a drink, after a couple of seconds of panic and confusion I carried on running as I didn't want to lose to much time. Although only about a mile away the wait for the water station seemed like an eternity, when it came I grabbed two bottles, drank from one and poured the other over me.
Rather dehydrated and slightly frustrated
By this stage the damage had been done, although my fourth mile saw the pace pick up slightly, my pace was erratic for the remainder of the race and I was unable to get anywhere close to the 6:30 minute mile mark. Despite all this I was still on track for another PB and I ended up crossing the line in 40:59, 73 seconds faster than the PB I set just the past week. Today's run was a significant milestone in this 1000km challenge for the reasons mentioned in my opening paragraph and has also made me that little bit more confident of running sub 40 this year.
All smiles and hydrated
When I returned home after a minor detour to
Bunty's
for some delicious post run cake I completed a quick 50 metre run around the block to bring my total up to the full 10km. Next weekend I do not have a race as I am attending a family Christening on the Sunday, I'll still be out running either a 10k or Half Marathon on the Saturday however, so today was my last race until the big one on the 21st.
Am I prepared? Maybe.
Am I nervous? Definitely.
------------
Distance: 9.95 km | 6.18 miles
Time: 00:40:56
Official Time: 00:40:59
Average Pace: 04:59 min/km | 06:37 min/mi
Playlist: Anaal Nathrakh
Goody Bag: Water Bottle.
------------
View my run: