Well, that was an absolutely incredible experience. I've always felt it was a bit of a hyperbole when people describe running the London Marathon as the best experience of their life, but after running 26.2 of London's best miles I'm inclined to agree, it was brilliant.
The weekend had begun with a trip down to the ExCel centre to collect my running number and chip and for a look around the Marathon Expo. As I walked round the stalls in amongst all the other runners the reality began to sink in, I made sure to grab as many leaflets advertising other runs as I could to help fill the remaining 36 weeks of this 1000km challenge with.
I was feeling optimistic...
My preparation for the Marathon was not as good as I would have ideally liked. It was my birthday on the Tuesday (16th) and I spent most of the week eating about five times as much cake as anyone preparing for a Marathon should do. My legs were feeling heavy for most of the week and my hips had begun to tease signs of an old injury. A combination of Jenny's urticaria and difficulty I have getting to sleep means that we often don't share the same bed, in fact there is probably only a handful of times this year when her skin has been good enough to allow us to, but this weekend we did twice. On the Friday night at my parent's we both had a bad nights sleep, Jenny appeared to be reacting to something and I was having difficulties sleeping as I was very aware of my breathing. On the Saturday night at my Brother's, airbed troubles and a random phone call at 2:30am meant that combined over the two days I only got around 8 hours of very broken up sleep.
As I struggled to keep my eyes open on the train to Greenwich I started going through my strategy for the race. I have set myself a target of running a 3 hour 30 Marathon at some stage this year, and yesterday I was planning on running as close to this as my body could manage. On my longest run to date a few weeks ago I managed to run 20 miles in 2:42, leaving me 48 minutes to run the remaining 6.2 miles. Knowing I had to average 8 minute miles yesterday my plan was to try and run the first half at an average of 7:30 minute miles and then see what happens.
Once we got to the Red Start, I had to make a quick dash to the toilet as I had been busting for the duration of the long walk from the train station to the start. I managed to get back to the start in time to say goodbye to Jenny, take a quick photo and then join my pen.
Unfortunately my plan went out of the window very early on as heavy legs meant I couldn't get up to the required pace. I began to experience a strange, difficult to describe, 'full' feeling in my head. It felt similar to the sensation when your ears are about to pop, but it felt like my brain was about to pop instead. Very, very strange, thankfully I managed to shake it off after a couple of miles, but it returned at a couple of points throughout the race. Strange feelings and tiredness aside, the first few miles of the race felt brilliant; after six years of aspiring to do so I was finally running the London Marathon and I ran the first few miles with a massive smile on my face.
Jenny and my family had arranged to watch me initially from the Cutty Sark, and I was pleasantly surprised by how far into the run this was. In reality it was right next to the start line, but I didn't run past them until late on in the sixth mile. Although I didn't see them, the boost from reaching the 10km mark powered me through the next few miles.
One area that I always seem to have trouble with on runs is the management of my water levels. I either drink too much before the race and don't find time to go for a fourth toilet break before the start or need a pee long before the race, refrain from drinking and end up dehydrated as a result. Yesterday I was keen to avoid the trouble I had at the Lincoln 10k and so made sure to drink plenty before the run and after going to the toilet three times before the start I thought I had finally got it right, I was wrong. As I saw the cubicles around mile 7 I decided to get it over and done with and made a dash across to them, tripping up the curb in the process and nearly flying head first into the door. A quick 20 second pee later and I was back on my way, after taking a quick look at the painfully obvious curb that I had completely missed when entering the toilet.
As expected there were a lot of references to Boston throughout the race. At the registration event every runner was handed a black ribbon to attach to their vest and there was the highly publicised 30 second silence at the start of the race. As the whistle blew to mark the beginning of the tribute, an eerie, deathly silence broke out across the 30,000+ crowd as everyones thoughts went out to those caught up in last Monday's tragic events. I came across a handful of runners who had ran the Boston Marathon wearing their race t-shirts, some who had been there on Monday wearing their race number on the back and many more with their own personal message to Boston attached to their race vest. Large sections of the crowd also brought out their own messages to Boston with signs, one in particular around the middle of the race which read "Run if you can. Walk if you must. But finish for Boston." was particularly touching.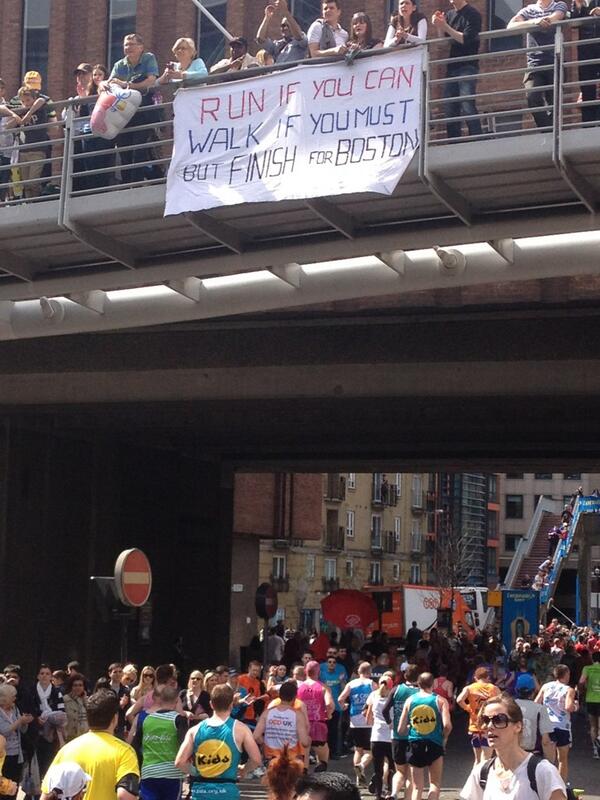 On the subject of the crowd, I would like to take this moment to thank every single person that was out on the streets of London yesterday to support those running. I've been to three London Marathons previously to watch my Dad and Brother run and I have been part of the same crowd, so I knew what to expect. Everyone that has ever ran the Marathon before always mentions how the crowd get you across the finish line, but I never realised the difference it makes the other side of the barrier when it is your name they are cheering. People you've never met before and are unlikely to ever meet again, cheering your name as if you've been friends for years. One particular moment that stood out was as you turn the corner onto Tower Bridge and the eruption of cheers that rippled down the street from the both the crowd and runners was spine-tingling. The iconic landmark just appears from nowhere and all those around me reacted with the same combination of shock and excitement as you see the bridge towering above you and the lift it gave me was unparalleled.
6 years ago, on the other side of the barrier
I reached the half way mark inside the 1:45 mark meaning that a 3 hour 30 marathon was still possible, but I knew it would be unlikely as I felt my body already beginning to slow down a fair bit. I still managed to reach the 17th mile before my pace dropped below 8 minute miles and my 19th mile dropped dangerously close to 9 minutes. As I came towards the 20th mile and my body began to reach uncharted territory I saw Jenny and my family in the crowd which gave me an, albeit short boost and I managed to temporarily pick the pace up.
My body was not ready
As I entered the last 6 miles, the pain of the previous 20 began to hit and I felt myself hitting 'The Wall' and the weight of all the cake I had eaten this week began to weigh me down. The race soon became about getting to the finish line, I felt that I could probably push harder than I was, but with a Half Marathon the following weekend and a race every week I couldn't afford to do anything stupid and soon settled into running 10 minute miles. The last 10k of the race was probably the hardest 10k I've ever ran, many were stopping and walking for sections around me, but I resisted temptation and made sure that I kept moving, albeit relatively slowly.
I managed to pick the pace up slightly for the final mile as I ran past Westminster and towards Buckingham Palace, the countdown began, 800 metres to go....400 metres to go...365 metres.... The Village People's 'YMCA' came on over the PA, all the runners around me started dancing on their way to the finish line and out of no where my legs found the energy to manage a sprint finish. I'm still not sure how I didn't cross the finish line on my face, but as the photo below shows, I crossed the line in a delirious state and I don't think the smile has left my face since.
6 years in the making
This morning I was feeling remarkably fresh, my little toe is very sore (I have a blood blister that covers about 50% of the toe) and my hips are aching, but remarkably my knees are fine. Most people say 'never again' when they cross the line, however I don't have that benefit, in less than four weeks time I will be running the North Norfolk Marathon and this Sunday I have a half marathon in Stratford Upon Avon.
Unfortunately on the way home I was given a stark reminder of why I'm running this year. Jenny had suffered from the heat, was badly sun burnt, and for about an hour on the car journey back from London her face began to openly weep. Suddenly all the aches and pains that I had diminished.
Please visit
http://www.justgiving.com/shanes1000km
and donate what you can.
------------
Distance: 42.73 km | 26.56 miles
Time: 03:46:50
Official Time: 03:47:23
Average Pace: 05:19 min/km | 08:34 min/mi
Playlist: Amon Amarth
Goody Bag: Wholegrain rice, Tiger Nuts, Toothpaste, Gluco tabs, Chia shots, Kellogs Nutri-grain bar, Lucozade sport, Shower gek, Eat Natural Bar, So Juicy packet, Apple, Dried, Prunes and Pistachios.



------------





View my run: